torsdag 19. april 2018 13:40
ITD's director: New growth strategy must increase the ambitions for Danish road transport and get Denmark in front of the international transport league
ITD's ambitions for Danish road transport of goods are towering, and the goal is nothing less than to make Denmark an international power centre within road transport of goods and logistics. Therefore, the volume is turned up and a new growth strategy is prepared for the Danish road transport of goods up to the year 2030. The growth strategy must prepare ITD's member companies for the future and secure that the companies can stay on course in a transport market undergoing massive change. This was stated by ITD's CEO Carina Christensen Saturday 14 April 2018 in her report at ITD's General Assembly.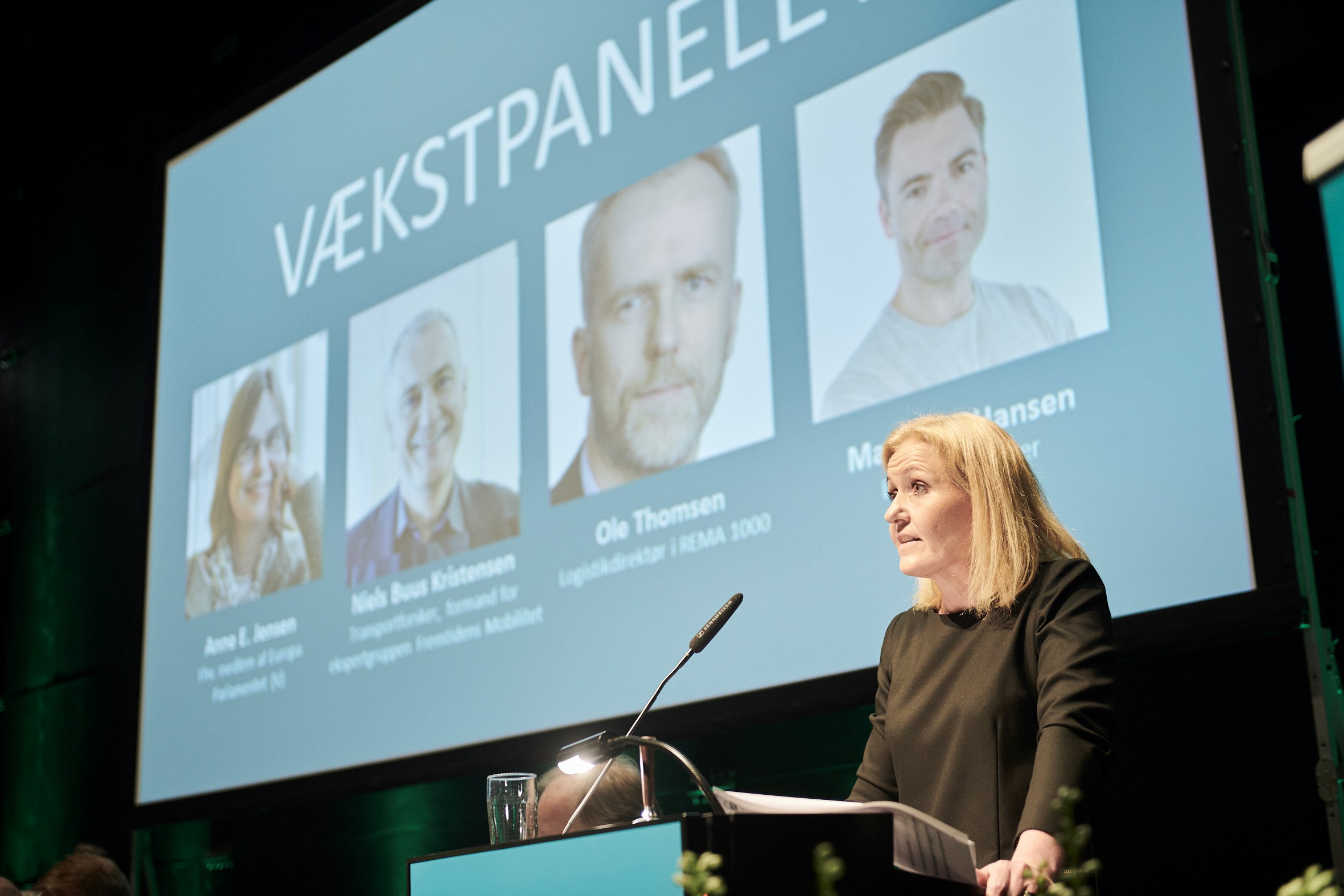 AT ITD's General Assembly, Carina Christensen revealed ITD's growth panel consisting of some of the top experts within road transport of gods and logistics.
In the growth panel you find Niels Buus Kristensen, Research Manager at the Institute of Transport Economics in Oslo and Chairman of the Minister for Transport's expert group for future mobility, Ole Thomsen, Logistics Director at Rema 1000, Hans Henrik Grøn, Logistics Director at Siemens Gamesa Renewable Energy, Nicolaj Boysen, Logistics Director at Coop, Martin C. Hansen, Director at Mover, Anne E. Jensen, former member of the European Parliament for the Danish Liberal Party and Michael Henriques, Senior Consultant at DTU Transport.
In addition, four of ITD's member companies are appointed to participate in the growth panel and contribute with knowledge from the industry and members: Simon Galsgaard from DSV Road, Torben Ladegaard from K.V. Markussen/Fueltransport, Jørn Kudsk fra Kudsk og Nissum A/S and Nikolaj Brogaard from Vognmand Sv. E. Brogaard. Nikolaj Brogaard represents the young generation from our network Next Generation.
The strategic work is assisted by Professor in Supply Chain Management Jan Stentoft from SDU, Copenhagen Institute for Futures Studies and Copenhagen Economics. Together, they will during the coming months perform thorough analysis of the transport industry and complete expert interviews at home and abroad. Also ITD's members can look forward to being involved in the work.
The growth panel's most important task will be to clarify the development tendencies influencing future road transport of goods both nationally and internationally up to the year 2030.
- If you shall be able to prepare your companies for the international competition and set the course for the future, then it is crucial that you know as much as possible about the waters you are going to navigate in. Therefore, we have together with the board initiated the work with a new growth strategy. It is our ambition that Denmark in 2030 must have strengthened its position as an international power centre within road transport of goods and logistics and contribute to an increasing GDP for the benefit of Danish economy, said Carina Christensen.
Carina Christensen expressed in her report that ITD is very concerned about what the future brings for the companies in the transport industry. Here she emphasises the importance of constantly endeavoring to make an effort to continue to be a relevant and competent sparring partner for the member companies.
Therefore, it is also important to have focus on daily member care. Today, ITD has a little less than 800 member companies putting great pressure on ITD's demanded member service.
- We have great ambitions regards being able to perform a very high service standard for our members. We want to maintain this, and therefore, at present we are focusing on caring for our present members and keeping the close contact and proximity to the members, Carina Christensen emphasised.
Carina Christensen also addressed the industry's challenges with obtaining qualified work power – a challenge which will only increase in future, if nothing is done in time.
Carina Christensen also mentioned ITD's great political efforts managed in both Padborg, Copenhagen and Brussels. Here it is at present the Road Package taking up lots of work, and we expect that on 2 May 2018 the Commission will publish its third and last Road Package proposal.
- At ITD we work constructively for achieving a strong negotiation result on the Road Package in order to unite the countries in the EU. To us it is decisive that all European rules establish fair and equal terms of competition for all companies in the EU. They must be transparent so they are interpreted equal, and they must be checkable and enforceable for the authorities, said Carina Christensen.
Finally, Carina Christensen thanked for the good dialogue ITD has had with the politicians from the Folketing, the authorities, other decision-makers and organisations to secure good terms of growth and competition for ITD's member companies. Deep gratitude was also expressed to all members and to the employees in the whole ITD Group.
Photo: ITD